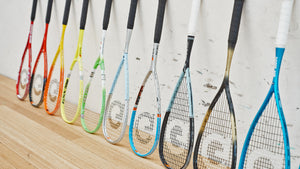 Introducing the 2022/23 GRAYS Squash Range
Founded in Cambridge, UK, in 1855 by World Racquets Champion Henry John Gray, racquet sports have long been at the heart of the GRAY-NICOLLS Sports business and is still owned and run by fifth generation Gray family members.
The brand became internationally renowned and Grays racquets quickly became the choice of leading players around the world. Quality craftsmanship was the catalyst behind Grays becoming market leaders during the 1960`s and 70`s. This quality attracted the world`s finest players and to this day no brand has won more British Opens than Grays. In the first ever live TV squash match covered at the British Open, both players in the Men`s semi-final, Paul Price and Mark Chaloner used Grays racquets.
The entire collection has been reinvigorated for 2022/23 with a new take on an old range which features a comprehensive offering of racquets to suit players at all levels which continue to be manufactured using the same quality craftsmanship expected of Grays racquets.