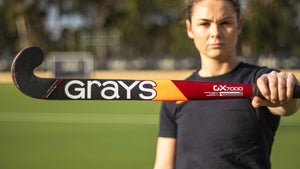 ABOUT US
We are a world renowned hockey brand committed to global distinction and excellence. 
With dynamic product design, continually innovating hockey stick composites, plus the very latest in technology, GRAYS have always endeavoured to create the ultimate performance product for hockey players of all levels.
From the very beginnings of the sport to the present day, more of the world's leading players have been relying upon the quality & performance of GRAYS craftsmanship than any other brand.
Some of Australia's best hockey players of all-time, Mark Knowles and Eddie Ockenden, trusted GRAYS' brilliance across their playing careers. 
As our business has advanced, we have invested resources towards to become a major player in the teamwear space. We have the ability to customising clothing for clubs and competitions.  
BRAND MISSION
Our brand mission is to provide the highest quality and fit for purpose, ethically manufactured hockey products and apparel on the market. 
PRODUCT
We pride ourself on ensuring our full product range is in the very best position to meet the challenges presented in product development, apparel and equipment to lead the way in the exciting new era of GRAYS products.
ETHICS & ENVIRONMENTAL FACTORS 
We have a strict ethical sourcing policy that all suppliers must adhere to across our full product range. A number of factors such as labour rights, fair and safe working conditions and environmental compliance are key components of this. We remain environmentally friendly, using materials responsibly and cutting down on plastic where possible. 
HISTORY
The first competitive game of hockey was played in 1874 and GRAYS were producing sticks from the earliest days. 
The original brand is derived from Henry John Gray who founded Grays Rackets and an accompanying retail shop. He later expanded the brand into other sports, notably cricket and tennis. 
From the early 1900s, the leading players in the world were having their GRAYS sticks fully customised and exported across the globe.  
In 1941, Alison and H.D Gray took over the business and acquired several other brands including 50 per cent of the world-renowned cricket bat business of L.J Nicolls.
GRAYS remains the choice of many of the world's finest players, and the company is still owned and controlled by the Gray family to this day, making it a 6th generation family business.